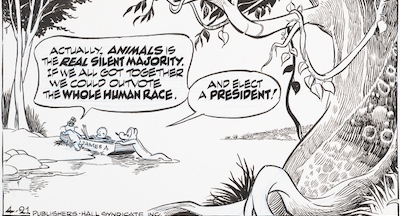 From to
Walt Kelly's newspaper comic strip Pogo was a platform for political satire and commentary using a motley group of swamp critters.

This exhibition primarily features art and archival materials from the Walt Kelly Collection, which was donated to the Billy Ireland Cartoon Library & Museum by Selby Kelly.
It also showcases artwork from the collection of Doonesbury cartoonist Garry B. Trudeau.

Note : this exhibit will be temporarily closed from Monday, April 19 through Friday, June 11, 2021.